Microsoft Excel 2013 Templates
TEMPLATES
Have you seen them? Well, if you have Excel 2013 there's no doubt you have, because it's the opening screen when you open Excel now. Microsoft took a new direction in their featured templates, and has developed hundreds of them which are useful and time-saving.
When Excel is opened to the New section of the Backstage view, you'll see the latest published list of featured templates. What you'll see will be something like this:
Of course you can specify and refine your search.

If you select one of these fine looking templates, you'll get a pop-up showing a snap shot of the template. For example, this is a new one, a weight loss tracker. Select it and you get a pop-up which has a snapshot, and on the right a brief description, file size, rating with number of votes, and a create button. Click Create to download and open this template.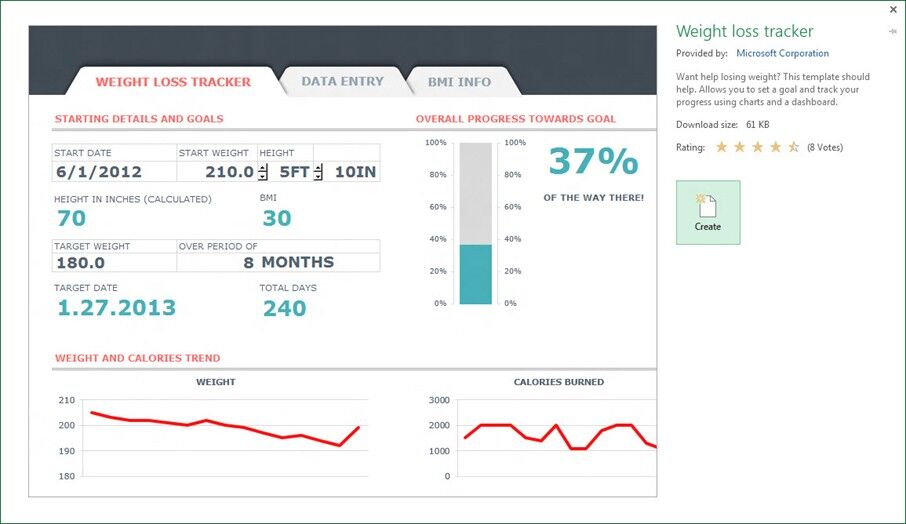 A lot of the new templates don't even look like Excel. This can be a good thing! Even though millions of people use Excel, designing in it isn't always the easiest thing to do. Not only do you have to know what controls/functionality there is available to you, but you have to know how to format them, utilize them, and also having a design eye for coloring. Luckily this has already been done in all of Microsoft's new templates!
EXAMPLE
In the above file as an example, I downloaded it and there were three tabs. Conveniently there was navigation already at the top of each sheet. If I didn't know better (or the worksheet tabs were hidden), I could be fooled into thinking that this was all built on one sheet. The navigation for the dashboard looks like this:
And if I click on the DATA ENTRY tab at the top (which is a hyperlink to the second worksheet), I get to input my data in a nicely colored table:

Then clicking on the third tab, BMI INFO (hyperlinked to the third sheet), shows me some nicely formatted data as to how the dashboard sheet was configured:

SUMMARY
These templates are much different from what Microsoft has released in the past. This new direction couples both the power and capabilities of Excel, with the beauty and elegance of design. It's ends up with a very well balance symbiotic relationship, which only spells out benefits for the users. If you haven't checked the new templates out, there's quite a few of them which are all free to download. Of course you must have Excel 2013 to see these. A lot of the templates will work in previous version as well. In fact, if you still use Excel 2010, there are some new (ish) templates from Microsoft which show for that app as well (check out Budgets, Home Budgets, "Family Budget (monthly)").
//