Contact Us Today
For a Smarter Microsoft Solution; The 5-Star Advantage.
Toll-Free USA: 877.392.3539
Irvine, California: 949.612.3366 | Manhattan, New York: 646.205.3261
Contact Us Today
We Are The Microsoft Access Subject Matter Experts
We Have Been Since 1994 as Talon Computer Associates, in Irvine California
♦ With the help of a Microsoft Certified Microsoft Access Expert (Microsoft Certified Silver Partner and Microsoft Certified Application Developer) you can take advantage of one of the most powerful and yet easy to use tools in the Microsoft Office Suite of desktop productivity applications such as Access, Excel, Word, Outlook, and Power Point. Leverage the power and speed of the number one desktop database on the market, Microsoft Access.
♦ Microsoft Access is used as either a desktop or network relational database, and it is how you work with BIG data sets of up to 2 gigs. This is the little brother of Microsoft SQL Server (Industrial strength database) and the uncle of Microsoft Azure (Microsoft cloud based database) and the cousin of Microsoft Power BI (Microsoft's latest and most powerful relational database). No matter which Microsoft database you use, they are all candidates for automation and integration, with any of the other Microsoft applications.
♦ That is where we come in, since 1994 we have been the Microsoft Certified Access consultants and Programmers. The Microsoft Access Subject Matter Experts who focus on data visualization at the expert level. Whether you find yourself stuck or you are just ready to take your skills to the next level, we have experts that are here to help.
♦ Work with a Microsoft Access MVP to take your Access databases to the expert level. As they are the Microsoft Access subject matter experts.
Access Database Programming

♦ Toshiba hired Mr. Fennell in 2009 to improve our financial planning model by setting up Access databases to process the huge amount of data we deal with on daily and monthly basis.

♦ Mr. Fennell not only understood our business needs well & reflected them in Access, but his work was done so accurately that 4+ years later, we're still using his work. He also did a great job training all our individuals to maintain the databases and make changes as our business needs evolved over the years.

♦ I highly recommend Mr. Fennell and his company to anyone who is looking for an expert, knowledgeable consultant. Majid Soroosh – Senior Financial Analyst at Toshiba America Information Systems, Inc.
We are the Microsoft Certified, Microsoft Access Subject Matter Experts; a Microsoft Certified Application Developer
Our Microsoft Access Consulting Services

♦ Custom data storage and Access systems play a vital role in gathering and sorting data. Access consultants work on the creation of collaborative data and data storage options.
♦ An Access consultant takes a comprehensive look at your current databases in order to create custom applications to help accommodate any company's ever changing organizational needs.
♦ An Access consultant paves the way for more efficient collaboration and more efficient data use. Access consultants ultimately encourage employees to focus on tasks at hand as opposed to learning the ins and outs of seemingly complex tools.
Our Microsoft Access Programming Solutions
♦ MS Access was created to support teams teams and clients. This database and application hub integrates Microsoft software, databases and applications.
♦ Custom application design enables business growth and change. An Access programmer uses your dataset and ties all of your Microsoft software together creating a more cohesive dataset, while increasing usability.
♦ Applications have the power to act as a powerful data center in your company's day-to-day functions. An easy-to-use, user-friendly platform guarantees a more powerful user experience.
♦ Access developers provide database solutions and database designs that are custom-tailored to your company's use-case.

Microsoft Access Database Programing:

♦ I have worked with Stan before, and he has surpassed the entire company we had previously contracted with for such issues, both in professionalism, efficiency and in courtesy.

♦ We always get what we need help and quickly. We never have to worry about deadlines or being forgotten about. Thank you Christopher and Stan!

Katie Foster – Citrus Research Board
Microsoft Access Training Services
♦ Time spent learning new tools can prove to be a daunting task. Streamlining training has great power and can significantly increase productivity and efficiency.
♦ While there is no need to be a developer, an Access trainer will help elevate this powerful tool. Access becomes a much more valuable tool when a trainer has taken the time to encourage more efficient Access uses.
♦ All organizational needs are incredibly different. By hiring an Access trainer in-house employees gain the skill set to efficiently change applications to keep up with organizational needs.
♦ User errors and inconsistencies will decrease making Access training a vital step towards increased productivity.
Client Testimonial

♦ Stan Batzalkin at Excel and Access Experts was very profession and patient with his training sessions with us last month. He took his time with showing us the basics and at the same time explained clearly advanced operations within Microsoft Access.

♦ We have been able to handle basic functionality and have been able to develop multiple Master Queries with direct linked data sources successfully with his training. This Master Queries are collecting most of the raw data we will need for reporting purposes.

♦ We are continuing the efforts with designing reports within Access. We greatly appreciate Stan's support for us Access beginner users. We will definitely consider his training sessions for advanced operations of Access when we deem necessary.

Javier Pacheco – Noritz. Project Manager / Sr. Sales Analyst at Noritz America
Benefits of Using Microsoft Access
1. Accessibility
Microsoft Access comes included in most of the Microsoft Office Suites.
Thus, there is usually no separate charge, no monthly charges, no annual charges to use Microsoft Access; you already own it and no DBA (Database Administrator) is needed.

This makes it the most affordable relational database by Microsoft.

While there is a free version of SQL Server, most company's needs are too large to use the free Lite version. Typically for large companies running the pricey Enterprise versions of SQL Server, there is a rather large cost to run SQL Server, but even for many of the small to intermediate sized organizations, the cost to run SQL Server, with or without the DBA, is too great a cost, hence the use of Microsoft Access.
Furthermore, using Microsoft Access does not require the support of IT as does a SQL Server application, and with Access there is no need for a DBA (Database Administrator), another cost savings.

An inhouse DBA can be expensive, Access eliminates that cost.
2. Scalability
Microsoft Access is the most scalable and easiest to use relational database by Microsoft.
It is the only relational database by Microsoft that comes with an easy to use Graphical User Interface (GUI) – Which is "Forms" based (Point-N-Click user interface).

That is the single most important reason firms use Access instead of the free Lite version of SQL Server, the easy to use point-n-click interface, no programming experience needed, that Microsoft Access has to offer.

This interface is so useful that people will integrate SQL Server with Access, just to use the Point-N-Click Graphical User Access Forms Interface.

They will still house the data tables, stored procedures, etc., in the SQL Server environment, using Access just for the GUI.

Microsoft Access has the super useful and yet amazingly powerful Forms Interface, making it a true point-n-click graphical user interface.

SQL Server lacks this most important feature, ease of use.

SQL Server is all about raw horsepower & data management.
3. Affordability
Microsoft Access is the most affordable database by Microsoft (It often comes included in Microsoft Office for no additional charge, based on your organization's version(s) of Microsoft Office)
Microsoft Access is so affordable and easy to use that it allows any organization, of any size, and even individuals to quickly and affordably build powerful Microsoft relational databases.

Unlike SQL Server which can be rather expensive, Access comes part of the Microsoft Office Suite of Applications, including Excel and Outlook, so if you already have Microsoft Office Professional, there is no monthly or annual fee separate from your annual Microsoft Office license accounts.
SQL Server and Azure have monthly fees and additional costs and they can really add up. The larger you are the more you pay.
4. Ease of Use
Microsoft Access is so simple and easy to use – Anyone can run it (Intuitive Forms based GUI)
Access is so powerful and simple it can run itself, no employee needed.

If you like, we can have your various Microsoft Access and Excel applications run themselves, based on the time and day of the computer clock, no human needed.

Microsoft Access Forms are an intuitive Graphical User Interface and it allows anyone to quickly and confidently run the Access database without knowing anything at all about Access programming or a stitch of VBA programming. Just click the button on the Access form, done. The Access point-n-click GUI makes this possible.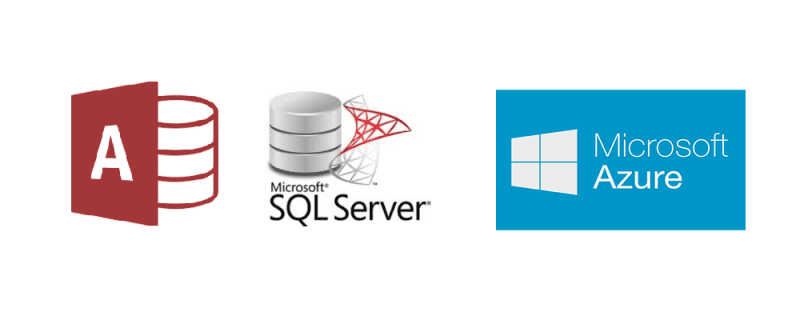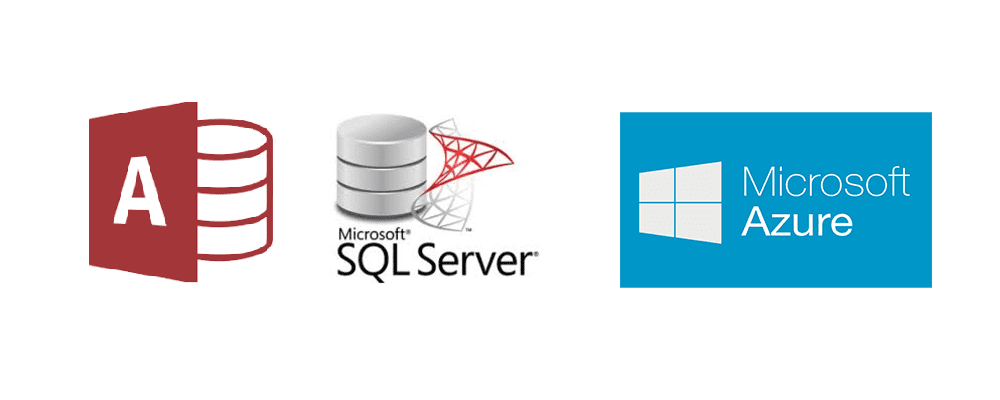 Microsoft Relational databases: Access, SQL Server, Azure, & Power BI
Which Microsoft Database fits your firm's needs?
Access is the smallest and easiest to use database.

Access is also the most user friendly with their GUI Forms Interface.

SQL Server is the most scalable and most powerful database by Microsoft.
Azure is Microsoft's Cloud based database.

Azure integrates with Excel, Access, SQL Server, MySQL, etc.

Power BI is Microsoft's latest relational database application.