Access Programming Services
Microsoft Access is equipped with a variety of features to handle all of your database needs. While Microsoft Excel is the most commonly used Microsoft Office product, as your business moves forward, Access will likely become the ideal software platform for your data and applications.
Access is made to support a team and its clients; through the integration of commonly used Office software, databases and applications can be created to work together. Whether you're incorporating Microsoft Access for a department, enterprise, or individual, Access programmers can help make the software work for you.
An Access programming company can help achieve a wide variety of tasks:
Creation of quick and cost-effective business applications
System build-outs
Microsoft Access Database management
VBA programming code
System issues
Web solutions
Desktop solutions
Intranet solutions
We have been working with E&A Team for over a year now on various custom Excel and Access projects. They are always professional, responsive and helpful. They were able to come in quickly and salvage a CRM application pieced together by an employee who abruptly exited our organization. They are great to work with!

MESA International Technologies, Inc. – Mark Tyssee – CEO
What Is MS Access Programming?
An Access programmer can create applications for just about anyone and in any business:
Personal
Small business
Departmental
Corporate
Front-end applications for enterprise clients and
Web applications
All of the above applications require design and customization, but also the capability to grow and change — as businesses often do. An Access developer guarantees customization that meets your needs and industry standards.
Microsoft Access programming can tap into databases and create cohesive applications and data storage using your current Microsoft tools. In fact, when Access and Excel are properly used together, they become a data powerhouse. Work with a MS Access development firm to help you achieve the best solution using your existing tools to streamline and organize all your data.
How Can an Access Programmer Help Me?
There are applications vital to a company's day-to-day survival. These applications play an essential role in completing missions, but also act as data centers because they can hold sensitive information. By hiring an Access programmer, you will have someone who can perform the necessary and sometimes frequent maintenance to your applications and help keep your critical data centralized.
Microsoft Access has a wide variety of capabilities:
Data retrieval
Data analysis
Data Visualization
Report generation
Queries, Stored Procedures
Data structures
Scalability
Automations using VBA and Macros
Automatic updates
By hiring an Access programmer, your most commonly-used tools become your most powerful assets. Through the creation of custom applications and streamlined data for back- and front-end users, the experience is transformed — increasing effectiveness and productivity. Microsoft Access coding can unlock a limitless amount of possibilities to take your data and workflows to the next level.
Access Programming Projects
If you're looking for a solution to large amounts of data, Access may be the best option. An Access programmer can help you to tackle your data-related projects. Information management can seem like a daunting task, but an Access programmer can help you manage your data more efficiently, preparing your data for:
Analysis
Reporting
Reference
Multiple users
Auditing


No matter the industry, data has tell-all characteristics. A professional consultant programmer will tackle your data projects and become one of your greatest resources. Hire an Access programmer, consultant, or schedule a training for efficient solutions to your most significant data challenges.
We had a great experience with you guys, you did what you said you would do and you did it within the time frame you gave us. Most importantly, the format works like a champ and we're very satisfied!

Tony W. Lenamon, CBRE | Valuation & Advisory Services, Dallas, Texas
---
Frequently Asked Questions (FAQ) About Access Programming
How Soon Can Excel and Access Begin My Access Programming Project?
Unless you call after hours, we can always start your project the same day!
Does Excel and Access Offer Free Consultations?
Yes! Excel and Access offers a free 45-minute consultation to discuss your needs live. Schedule your consultation today!
---
Microsoft Access Database Solutions
When a project requires more than just a few tables and some simple reports, it's time to consider using Microsoft Access. Microsoft Access is a relational database management system (RDBMS), which means it can link information from multiple tables and make it easy to query and report on that data. An Access database programmer can help synchronize your data and improve workflows and data visibility.
There are many reasons to use Microsoft Access for your database needs:
– Access databases are easy to create and use.
– Access can be used as a front-end to other databases, such as SQL Server, making it easy to query and report on data from multiple sources.
– Access databases can be easily shared over a network, making collaboration with others easy.
– Access databases can be easily converted to other formats, such as web-based applications.
If you have a project that requires more than just a few tables and some simple reports, contact Excel and Access today to discuss how we can help you create a custom Microsoft Access database solution.
Benefits of Working with Our Access Developers
There are many benefits to working with an Access developer, including:
– Streamlined data entry and retrieval
– We deliver 5-Star Solutions
– Improved data analysis and reporting
– Increased productivity
– Reduced costs
– Customized applications tailored to your specific needs
Our team of highly specialized Microsoft application experts understand all of the intricacies of programming in Microsoft Access. We take the time to understand your needs and will work with you to find the perfect solution.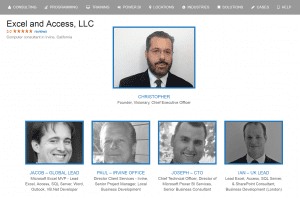 Get Started Today!
Start managing your database more efficiently and effectively with help from an Access programmer. From setting up applications to addressing issues with your company's Microsoft Access databases, we can streamline your database and processes through our expert, cost-effective solutions. Contact us now to get started today!